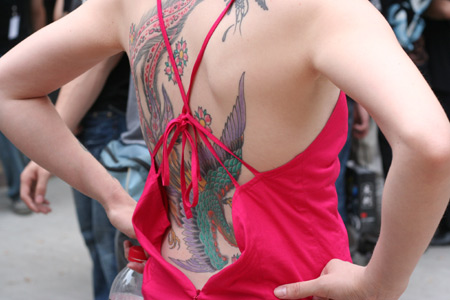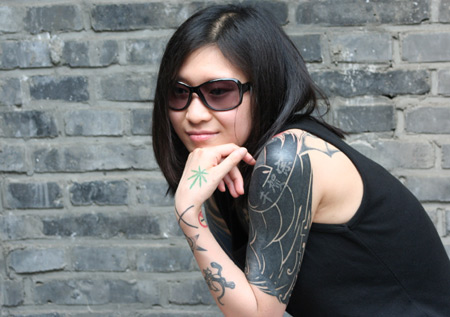 Though

tattoos in China

still draw scorn from Chinese elders and double-takes from straight-laced youth, this weekend

China's tattoo

enthusiasts gathered in Beijing for

China's Tattoo Show

Convention 2007. Until recently,

tattoos in China

were reserved for those with ties to organized crime, a prison record or membership to one of China's tribal minorities for whom body art has long been a custom. In today's China, as evidenced by over 1000 tattoo artists, suppliers and amateurs from all of China's provinces who attended the opening ceremony, the tattoo has taken on a entirely new and mainstream cultural significance.

The 3-day convention at the Sunshine Art Space in Beijing opened Saturday morning with a welcoming ceremony and a sign-up session for anyone who wished to get tatted during the event. The following days included various tattoo competitions, a comparative exhibit on Chinese and Western tattoo philosophies and different presentations of tattoos within China and all over the world. As China has taken its cultural cues from the West in recent years, and has experienced increased exposure to rock, Hip Hop music and NBA players (nearly half of whom are tatted), the tattoo has become an accessory that defines the modern, rebellious nature of today's Chinese youth culture. More and more Chinese youth, for whatever reason, are re-examining the tattoo as not a willful imperfection imposed upon the body, but as an expression of popular fashion. Tattoo parlors can be found in the smallest Chinese cities serving the impulse of China's hip to indelibly mark their bodies with designs and words.

The convention concludes Monday night with awards and a closing ceremony. As

tattoo culture catches

on in today's China, the

Tattoo Show Convention

will surely attract more and more tattoo enthusiasts in years to come.